Funeral Service Details
Here's a look at some of the smaller details that are easy to overlook but which might just add something to a funeral. From stationary to celebrants, we've provided some links to reliable services that will help create a personal service.
Stationery and Printers
The order of service is not just helpful to plan out the service but, for many people, that piece of card acts as a keepsake to return to years later. Make sure its design is in keeping with the rest of the day by looking into the world of funeral stationery:
Where to find out more
Click the link or image to find out more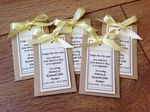 Forget Me Not funeral printers offer next day funeral printing services, where you can choose a template and add your own images online

Fitting Farewell bespoke funeral stationery has a varied template range or you can arrange to offer up your own designs to be professionally laid out
---

Create your own
If you've mocked up your own order of service and just need a printer, sharpish, then you should look into companies that offer swift but good quality printing services. 
There are websites out there which offer custom designed orders of service using an online design editor. Usually, these are simple to use and save on buying more sophisticated software to design your own order of service. Here's where you can start:
Where to find out more
Click the link or image to find out more
You can print your own with Instant Print  

If you're not into making your own, but you want something handmade or, indeed, handwritten then there are actual handwriting services. This is where you send along the text of an order of service, message or card and someone with exceedingly nice handwriting will write it out for you:  
Where to find out more
Click the link or image to find out more

Handwritten letter
---
Condolence and memorial books
Everyone at a funeral has a different story to tell about the person who has died. We think it's important to capture these memories and anecdotes and would suggest a good quality memorial book to do so. At Death.io we recommend you check out Cherished Condolences as their range of fresh, original designs which can be personalised help create a truly elegant way of remembering all the experiences that make up a person.

Click here to go to the Cherished Condolences website and see their full range of products.
---
Photographers
It's possible to hire a photographer to take photos before, during and after the funeral service, just like you would a wedding. You may want to capture some of the more intimate moments of the funeral service. Here are a few individuals who have experience with funeral photography:
Where to find out more
Click the link or image to find out more

Award-winning Rachel Wallace Photography specialises in funeral photography throughout the UK

Based in Surrey, the South East, Joanne Collins Photography has experience in funeral photography, with ample examples to get some inspiration
---
Celebrants
For the funeral service, you might want to hire a celebrant. This is someone who leads a funeral service. They can suggest hymns, songs, readings and even write the eulogy. Just like a priest, they can direct the service and bring the whole day together. Take a look at our article on what a celebrant is here. 
Where to find out more
Click the link or image to find out more

Take a look at The Celebrant Directory to find the type of celebrant you're comfortable with
We have written article outlining everything you need to know before you decide whether you need a celebrant or not
---
Flowers
Whether you want something to decorate the crematorium with, or you want meaningful memorials, flowers are a staple at most funerals. There are many small, independent florists who can get to work on funeral wreaths, and they are probably just a short walk down your nearest high street. You can also order funeral flowers online:
Where to find out more
Click the link or image to find out more

Flowers Same Day work with independent florists to deliver your choice of flowers on the same day you order them

Interflora are also an express service which can either pick you out a bouquet or you can choose from their funeral options
< Go back to Funeral Planning