Transport
Transporting a coffin or a body is one of the obvious practicalities of a funeral. It may be that you are set on a fleet of traditional hearses or you want to know more about the more unusual, singular options out there. We've compiled a list featuring many of the options that you won't have come across and that are offered by only one or two companies.
Traditional hearse and limousines
This the tried and tested way of getting about once you're gone. You can usually arrange a hearse and an additional fleet straight from your funeral director, which usually comes with a driver and pallbearers.
Some links for inspiration
Levertons and Sons

in London have a particularly wide range of hearses within different price brackets.

Also in the South East are Green's Carriage Masters, offering all kinds of fleets and models, including hot pink and leopard print versions
---
Horse-drawn hearse
A horse and carriage complete with plumage is thought of as quite a display. The traditional horse and carriage isn't for those who were shy and retiring or not into horses, for that matter, but it can make a seriously solemn impact. Some funeral directors supply their own horse-drawn hearses, or you can check out these:
Some links for inspiration

Horse and Carriage Masters Ltd offers some of their carriages for use at funerals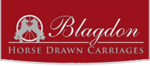 Blagdon Horse Drawn Carriages are suitably formal, complete with top hats and drapes
---
Eco hearse
An eco hearse involves modifying an electric car to suit the size requirements of a coffin. If you're keen on remaining environmentally friendly after you've gone then consider the comforts of the eco hearse.

Some links for inspiration
One company, Brahms Electric Hearses, based in Northamptonshire, has a fleet of Nissan Leafs (electric cars) that can be used to transport a coffin
---
Volkswagen Campervan
If you're a die-hard hippy or an old-timer hipster, then the classic VW Van might be the perfect fit. It's spacious, stylish and you'll get to ride into the sunset in an authentic vehicle. We've found a company specialising solely in VW's:
Some links for inspiration
Volkswagen Funerals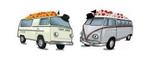 offers restored Volkswagen vans which have enough space for a coffin and a bench in the back
---
Motorbikes and sidecars
From a Harley Davidson to a Triumph Thunderbird, you don't have to be a former member of the Hell's Angels to be transported by your favourite motorbike to your final resting place. More speedy than a hearse, why not make your final journey riding pillion.
Some links for inspiration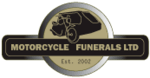 With Motorcycle Funerals Limited you can hire a motorbike with a sidecar to carry a coffin
Natural Endings offer a motorcycle hearse complete with leather-clad priest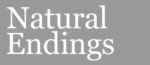 ---
Bicycles
If you're an eager lycra-wearer and don't fancy the whole hearse thing, then stick to two wheels. It's environmentally friendly and you're less likely to get stuck in traffic en-route to the cemetery.  
Some links for inspiration
Based in East Anglia but available for funerals further afield, Bicycle Funeral Hearse offer a neat pushbike complete with a platform to hold a coffin
---
4x4s
If you prefer the stability of four wheels and a sturdy chassis, then perhaps you'd like to go out in a Land Rover hearse. Suitable for off-road detours, a 4X4 hearse could open up a whole new element to your adventurous sendoff.
Some links for inspiration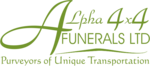 We've found a small company that offers the 4X4 hearse around the UK: Alpha 4×4 Funerals were the first business to offer this kind of hearse in the UK
---
Fire engine
Whether you were in the industry or have a keen interest in engines or fires alike, then using a fire engine to get you to the church is a memorable way of saying goodbye. 
Some links for inspiration
With a retired fireman as director, Classic Fire Engines offer restored vintage fire engines to transport coffins 
---
 Vintage lorry
It might be that the 21 foot deck of a vintage lorry is the perfect place for a coffin. With ample space for even the largest casket and more than enough room for flowers, we've found a company that offers a funeral vehicle for those interested in making a vintage impact:
Some links for inspiration
Vintage Lorry Funerals are a small company that offer its 1950 Leyland Beaver for hire 

---
Hire a van or use your own car
There's no lawful requirement to hire a hearse or vehicle from a professional company. Instead, you can hire a standard van or a car, or even use the family car to transport a body.
< Back to Funeral Planning